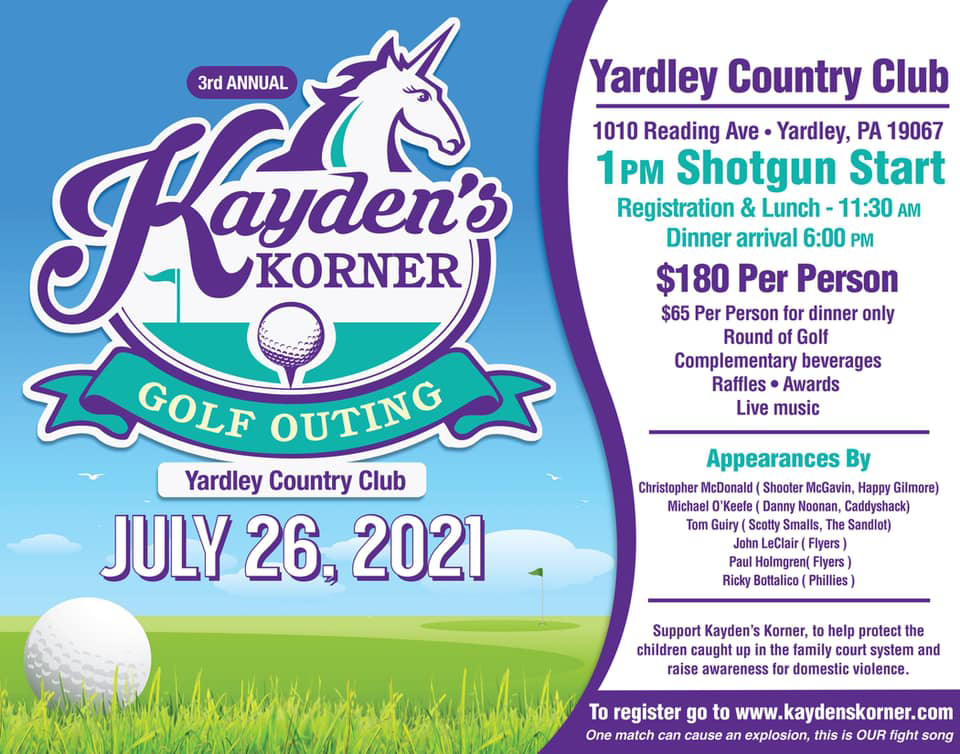 KAYDEN'S KORNER FOUNDATION 3RD ANNUAL GOLF OUTING
MONDAY, JULY 26, 2021
YARDLEY COUNTRY CLUB
REGISTRATION & LUNCH: 11:30AM
DINNER ARRIVAL: 6:00PM
Registration is now open for the 3rd Annual Kayden's Korner Foundation Golf Outing on Monday, July 26, 2021.
We are excited to host the event at a new venue this year, the Yardley Country Club. Come experience this historic community-centric private club – enjoy the food, fun and perhaps meet a celebrity guest or two who will be making an appearance throughout the day, including…
Christopher McDonald (Shooter McGavin, Happy Gilmore)
Michael O'Keefe (Danny Noonan, Caddyshack)
Tom Guiry (Scotty Smalls, The Sandlot)
John LeClair (Philadelphia Flyers)
Paul Holmgren (Philadelphia Flyers)
Ricky Bottalico (Philadelphia Phillies, NBC Sports Philadelphia)
If you can't make the golf portion of the event, please join us for cocktails, dinner, live music, and prize raffles provided by our generous sponsors. We'll also provide an update on our progress towards bringing awareness to the safety of children in domestic law in Pennsylvania and beyond.
This event WILL SELL OUT! Register early!
Thank you for being in Kayden's Korner!
The event will begin with registration at 11:30 am followed by a 1:00 pm shotgun start and will include a 4-Person Scramble Golf Tournament, Lunch, Cocktail Reception, Dinner, Raffles & Awards, Live Music following golf.
More details and registration information are available here.
Be sure to watch Kathy's interview on NBC Nightly News to gain a better understanding of what Kayden's Korner is about.