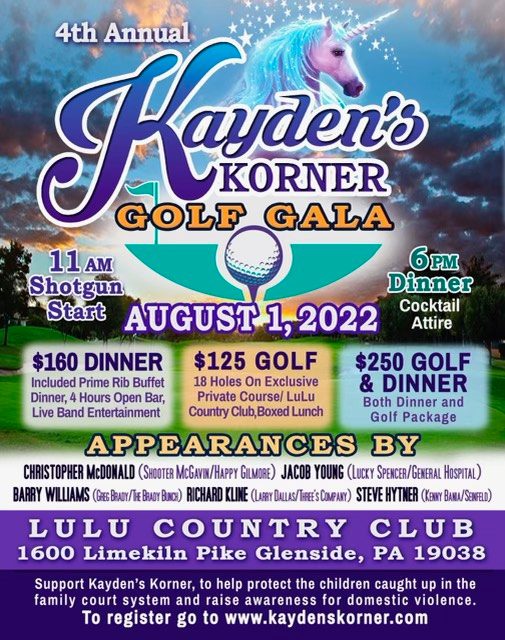 KAYDEN'S KORNER FOUNDATION 4TH ANNUAL GOLF OUTING
AUGUST 1, 2022
LULU COUNTRY CLUB
REGISTRATION & LUNCH: 10:00AM
DINNER ARRIVAL: 6:00PM
Registration is now open for the 4th Annual Kayden's Korner Foundation Golf Outing on Monday, August 1, 2022.
We are excited to host the event at a new venue this year, the Lulu Country Club. Come experience this historic community-centric private club – enjoy the food, fun and perhaps meet a celebrity guest or two who will be making an appearance throughout the day, including…
Christopher McDonald (Shooter McGavin, Happy Gilmore)
Jacob Young (Lucky Spencer, General Hospital)
Barry Williams (Greg Brady, The Brady Bunch
Richard Kline (Larry Dallas, Three's Company)
Steve Hytmer (Kenny Bania, Seinfeld)
If you can't make the golf portion of the event, please join us for cocktails, dinner, live music, and prize raffles provided by our generous sponsors. We'll also provide an update on our progress towards bringing awareness to the safety of children in domestic law in Pennsylvania and beyond.
This event WILL SELL OUT! Register early!
Thank you for being in Kayden's Korner!
The event will begin with registration at 10:00 am followed by a 11:00 am shotgun start and will include a 4-Person Scramble Golf Tournament, Lunch, Cocktail Reception, Dinner, Raffles & Awards, Live Music following golf.
More details and registration information are available here.